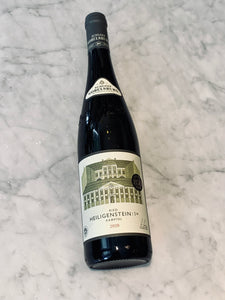 Schloss Gobelsburg - Kamptal Ried Heiligenstein Riesling 1 OTW 2020 750ml (13% ABV)
Regular price
Sale price
$90.00
---
While Austria has not yet declared which 1er Cru sites will be elevated to Grand Cru / Grosse Lage staus - there is no debate on whether or not Heiligenstein will get the promotion - this is widely considered to be the finest site in Austria for Riesling: it is the remains of 250 million year old Permian desert sandstone with feldspar (volcanic) and siltstone. This is an iconic, terraced vineyard with a long history of creating dense and complex dry Riesling that can be cellared for 20+ years.
Gobelsburg is a Cistercian monastic estate, and one of the oldest wineries in the Austrian Danube area with a documented history that dates back to 1171. All the vineyards are located on slopes and terraces around the valley of the river Kamp near the town of Langenlois and the village of Gobelsburg
winemaker: Michael Moosbrugger 
only about ~75 cases imported to US each vintage. 
Schloss Gobelsburg's three hectares of vines (~35 years of age) within Heligenstein are in the section facing entirely south (and split amongst 2 parcels). This full exposure to the blazing sun, plus a slightly later harvest, endows the crop with immense concentration and flavor profile
Heiligenstein is often incorrectly translated into English as "Holy Stone," but it actually means "Stone of the Saints."
Just over a century ago, the Heiligenstein was one of first single vineyards in Austria to get its own name on a label – at a time when dry rieslings were a rarity in Imperial Austria and were much sought after. Today it has 50 owners, and the wines from at least a dozen of them have good reputations.
In 1996 at the age of 30, Moosbrugger took a two-generation lease on the property from the monastery of Stift Zwettl, a short drive to the north. His partners in this venture were then, and remain, Willi Brundlmayer and his wife Edwige
96 points Wine Advocate
Bursting with pedigree, complexity, and character: aromatic with jackfruit, exotic undertones, rhubarb, pineapple core, gooseberry, full bodied, intense minerality and length on the dry finish, spicy and salty, supple, polished, a showstopper. Wow.
region: Kamptal, Austria
varietal: Riesling
style: ageworthy white
farming/cellar: certified sustainable, hand harvested, whole cluster press, fermented and aged for 18 months on the lees in huge/neutral 25 hl Austrian (Manhartsberg) oak casks
pairing: