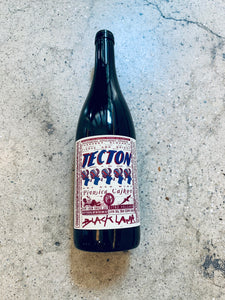 Pivnica Cajkov - "TECTON" Slovakia Red NV 750ml (12.5% ABV)
Regular price
Sale price
$45.00
---
Red & white grapes in full tectonic motion: earthy & fiery qualities come from Alibernet, with the juicy Frankovka varietal adding a nice undercurrent & a dash of volcanic ash (from nearby Mt. Sitno), capped off by a bit of the eloquent white grape Devín.
"Putting these grapes together was a happy accident – I once had such little yield from one vineyard that I had to process all its grapes together, no matter the colour. Although unplanned, I liked the result so much that I later kept replicating it on purpose. The new Tecton is a blend of three neighbouring sites with similar soil and spirit – proportions vary according to vintage, but the aim is always a tasty red wine that's grounded, but still a bit provocative and easy to finish a bottle of."
As Archimedes of Syracuse once said: "Give me the place to stand and a glass of Tecton and I shall move the earth!"
3 obscure grapes, each from a unique and tiny family plot:
Alibernet comes from Gerhánka, a .3 ha plot, old family vineyard next to a meadow feeding our cows. 250m elevation, south facing, organic, pyroclastic tuff with volcanic glass and ashes, very porous and well drained, planted in the 80s
Frankovka comes from Stará Hora (northern part), 2 ha plot, 300m, south facing, certified organic, soil is Red rhyolite - crystallised magma, hard and erosion-resistant, planted 2009
Devin comes from Východné, mainly Cyril's vineyard (named after my uncle). .2 ha plot, 240-280m elevation, south facing, organic, pyroclastic tuff with volcanic glass and ashes, very porous and well drained, planted in 1992, 
only 1000 bottles produced. NV blend, 2020+2021
region: Tekovsky, Slovakia
varietal: 40% Alibernet, 40% Frankovka, 20% Devin
style: co-fermented (chillable red)
farming/cellar: Harvested by hand into small crates (18-20 kg) to keep the grapes as intact as possible; the main part was picked October 2020. Frankovka + Alibernet were destemmed, crushed and spontaneously co-fermented in open-top vats. The free run juice goes into old barrels at ~10% ABV (to avoid Alibernet's hard tannins) where it finishes fermentation and ages for nearly 2 years in our historical cellar. In autumn 2022, we blended it with a bit of 2020 Blaufrankisch for juiciness and drive, and a dash of 2021 Devín for aromatics. The blend shortly rests in tank and is bottled unfined, unfiltered, with 15ppm of SO2
pairing: