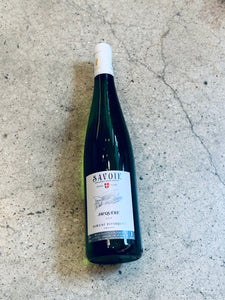 Domaine Dupasquier - Jacquere Savoie AOP 2019 750ml (11.5% ABV)
Regular price
Sale price
$28.00
---
David Dupasquier is a fifth generation vigneron at this ultra-traditional domaine.  He and his sister Veronique run the domaine, but their Father Noel is still very much involved in the vineyards and in the cellar.

The Dupasquier vineyards are located in a southwestern lobe of the Savoie, close to the Rhône Valley.  One drives through a large mountain called "Le Dent du Chat" to arrive at the domaine, and the terroir seems almost instantly to become more Rhône-ish on the western side of this tunnel. The town is called Aimavigne, and its most prestigious vineyard is the incredibly steep "Marestel" Cru (pronounced "mah-reh-tehl" no "s"). The vines benefit from steep, sun-drenched slopes, primarily limestone soil, and the cooling effects of Lake Bourget.  David works these vineyards with a tractor and by hand – the Marestel vines entirely by hand, as a good percentage of the best sites are too steep to work with a tractor.  Plowing is done once per year for every other row and David believes that the biodiversity this leaves in the vineyard is critical for the quality of wines.  Harvest is by hand and clusters are hand selected.
A light, delicate, bright and absolutely delicious Jacquere, with plenty of mineral zing and crisp acidity.
region: Savoie, France 
varietal: Jacquere
style: delicate white wine
farming & cellar: sustainable/prac organic, hand harvested, ambient yeast, whole cluster inclusion, a long period of aging in old, neutral barrel on fine lees until just before the next year's harvest. The wines then see another 18 month in bottle (highly unusual in the Savoie, where the typical wine is fermented with added yeast and vinified quickly in stainless steel) before release.
pairing: poached pears and comte' or scallop crudo with mandarines and chervil