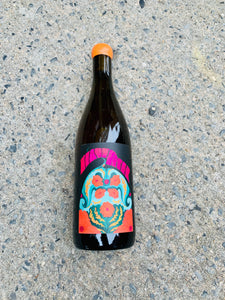 Cutter Cascadia - "Heavy Water" Skin Contact Riesling Columbia Valley AVA 2021 750ml (11.5% ABV)
Regular price
Sale price
$46.00
---
WINE CLUB SELECTION JULY 2023
Soil: Deep, unconsolidated silty loam soils derived from both the Missoula floods as well as volcanic mudflows and debris from ancestor volcanoes to Mount Hood about 6 million years old. Low in water retention and organic material.
Vineyard Planted: 1983 Spacing: 4 x 10 Pruning: Lyre
Lyre Trained Vines: 
"The Lyre trellis is a variation on the Geneva Double Curtain and the Scott Henry (spur-training).  As the sign tells us, its use is rare (and confined to the New World), but it has the advantage of opening up the canopy.  It accommodates overly-vigorous vines that would have problems with respect to shade, by allowing good air circulation and sunlight penetration.  Vine vigor, by the way, refers to the growth of foliage or canopy." The lyre system improves the canopy microclimate and leads to improvement in yield and wine quality because of better leaf and fruit exposure to sunlight. The lyre system has shown substantial improvements in wine quality where it has been evaluated in Europe. 
Surrounded by the cherry orchards and wheat fields central to Wasco County agriculture, Hillside Vineyard is an arid, warm and windy locale. Planted in 1983-5 by Harold Haake and Lonnie Wright, Hillside is 80 miles east of Portland along the Columbia River in the loamy, sandstone foothills south of The Dalles. Approaching the high desert of central Oregon and the Columbia Basin, there is a rugged beauty here that few connect with the image of Oregon, or at the very least, Oregon viticulture. 
With that, Riesling, at least on paper, makes little sense here. But, through the lens of skin maceration and meticulous canopy management, the expression of Heavy Water is one of a Mediterranean climate in the Eastern Gorge that reverberates this place in a very singular way. 2021, with all its heat domes and the like, made things complicated at best, especially in such a warm climate already such as the eastern Gorge. The berries were small and tough and sun blasted on the morning side of the canopy whereas the unkept afternoon side benefited from the extra leaf cover. This made for a compelling raw material to work with once picked.
Sourced from Hillside Vineyard in Dalles, OR -  600-650 ft elevation
region: Columbia Valley, OR, USA
varietal: Riesling

style: skin contact / orange wine
farming/cellar: No synthetic herbicides or fungicides are used at any time. Mildew sprays are conducted with OMRI certified products and compost and cover crops are also employed to aid in soil health and water retention. Harvest commenced on September 3rd (2020 was September 22nd for reference), the regimen in the cellar was as in prior vintages: destemmed fruit; 15 days on the skins with different techniques employed in cap management; pressed, settled and aged on the lees for 9 months; bottled unfiltered and unfined. 25 ppm sulfur at bottling.
pairing: meant to be appreciated all on or it's own apple compote fontina grilled cheese on sourdough