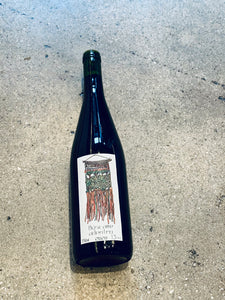 Chodin Param - "Buscame Adentro" Pais Valle del Bio-Bio 2020 750ml (13% ABV)
Regular price
Sale price
$39.00
---
Paula Chodin Param and Arnaldo Batista are Vitivinícola Chodin Param, a new winemaking project in the Itata and Bío Bío valleys. Paula and Arnaldo collaborate with local winegrowers who own small centenarian plots of País and Cinsault. The emphasis is on fair trade and mutual benefit: Paula assists growers in transitioning towards organic agriculture and buys their grapes at fair prices. Rather than purchasing vineyards or planting their own, they hope to have a positive effect on the local region by assisting long-time growers, accompanying them in the vineyards, and contributing to the local area's self-sustaining economy.

Paula trained as an agronomist and viticulturalist in Australia, then worked with different winemakers in Australia and California before returning to her native Chile. There she and her husband Arnaldo (who was born in Cuba and is also a chef and musician) worked with celebrated natural winemaker Roberto Henríquez in Bío Bío.
 cherry pit, brambly, boysenberry, amarello cherries, Spice and smoke.  Brooding and deep. 
region: bío bío vallé - sur, chile
varietal: 100% país
style: crunchy red
farming & cellar:  Pais grapes are from several blocks of organically farmed vines in the coastal range of the Bío Bío valley that are being recuperated. The vines are nearly 200 years old, dry-farmed, planted on granitic soils, and yields are very low (~2 tons/Ha).
The grapes were harvested by hand and de-stemmed, then fermented in open-top plastic bins with their skins. The skins are left to macerate in the finished wine for one week after fermentation, then the wine is racked to rest in old oak barrels. Bottled without fining or filtering and with only a small addition of sulfur. In the cellar, Paula and Arnaldo follow a minimal-intervention approach. All fermentations are with native yeasts, they use almost no temperature control, and sulfur is used sparingly and only at the end of malolactic fermentation.
pairing:  fatty fishes, salmon, to charcuterie and pasta dishes with guanciale