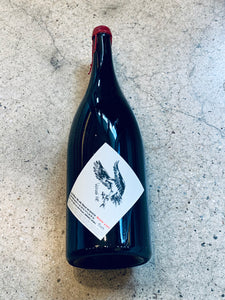 Absentee Winery - Western Art 2019 MAGNUM 1.5L (14.5% ABV)
Regular price
Sale price
$175.00
---
Avi Deixl, after being bit by the wine bug working in a retail shop in Ithaca "went through six years of dumping bags of white powder yeast, tartaric acid, sulfites - "into tanks".... Then he met natural winemaker Tony Coturri and everything changed .....He bought an old dairy barn in beautiful Point Reyes, CA to make expressive soulful wine. He sources all of his fruit from Poor Ranch, an organically farmed vineyard in Mendocino County and hand sands his old barrels removing and residue or flaws.
....or if we followed suit avi style we'd just say, ingredients, grapes. 
from NotDrinkingPoison.com article on Avi:
He eschews sulfur at all stages of vinification, including barrel maintenance.
"There's so much (expletive) in industrial winemaking. Even when you go natural," he says. "Something as simple as sulfuring barrels is commonplace for anybody. But I don't want to do that."
Instead of burning sulfur wicks, Deixler prefers to refurbish his second-hand barrels by hand before use, stripping away layers of wood that may have absorbed winemaking additives from previous owners, and planing away minuscule blisters in the wood that can harbor bacteria ... It's a skill he acquired mostly on his own.
"Tony [Coturri] told me he used to do it, which was enough for me to start trying," he says. "To do one barrel, it used to take like four-to-five hours. Now I can do two barrels in five hours. I used to do it as a hobby, now I need to get it done. But it's a really important thing in my winemaking."
almost opaque color, big & bold, spicy, complex, hedonistic (but in a good way), finely grained tannins, supple, darker berry fruit - a delicious alternative to Napa Cabs or Australian Shiraz if you love a rich & layered red with a not-so-modest ABV.
wild red wine as expected from avi. 
region:  point reyes, california
varietal(s):  petite sirah with a bit of Abouriou (blending varietal native to SW France)
style: big red
farming & cellar: organic, fermented in whole clusters with wild yeasts in hand-coopered raw oak casks, this is a semi-carbonic maceration in a 60 gallon barrel, 2 months fermentation, then hard pressed via small old school vertical Burgundy press, only addition being a tiny amount of so2
pairing: tacos suadero from taqueria ramirez