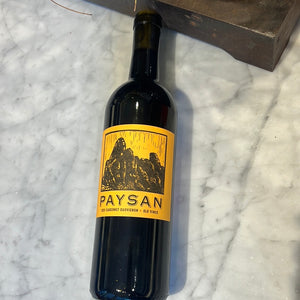 Le P'tit Paysan - Old Vine Cabernet Sauvignon San Benito County 2021 (13.2% ABV) 750ml
Regular price
Sale price
$35.00
---
Ian Brand, former cellar rat at Bonny Doon and Peace Corps alum is a Central Coast champion crafting this dialed-in Cab Sauv that was a star at a recent tasting event we hosted.
He sources from three different vineyard sites that all experience warm days and cold nights which are well-suited for these late ripening Bordeaux varietals to be picked with high-acidity.
Largely from the 60-year old Brigantino Vineyard plus additional fruit from from 75-year old Tres Pinos Creek Vineyard and 45-year old vines at Wheeler Vineyard. All sites are certified or in conversion to organic.
Winemaker Ian Brand notes: "This is a Cabernet selection off old vineyards, planted with old massale/clonal selections on old school rootstocks (St. George and AXR-1) made in a style reflective of the classic California Cabernets of the 1970s." Winemaker Ian Brand moved to California to pursue a life of surfing, but quickly got bitten by the wine bug. He is a bit of a rebel, and the purpose of the P'tit Paysan project is to present simple, unpretentious "country" wines. In reality these simple wines come from some unique vineyard sites that Ian has sniffed out in the backcountry of Monterey and the surrounding area. Most of these vineyards exhibit very poor soils, in harsh conditions just on the edge of farmlands. The struggle these vines must face makes for intense fruit.
soil is well drained alluvial
brambly blackberry and black cherry, cocoa nib, black pepper, graphite, chopped bell pepper and herbs, full bodied, plush mid palate, boysenberry, well integrated tannic structure, think if Bordeaux found yoga.
region: San Benito County, CA, USA
varietal: 91% Cabernet Sauvignon, 6% Petite Verdot, 3% Cabernet Franc
style: bold red
farming/cellar: organic, Fermented whole berry in several lots, pressed after approximately 20 days. Aged for 11 months on lees in neutral barrels
pairing: pot roast,