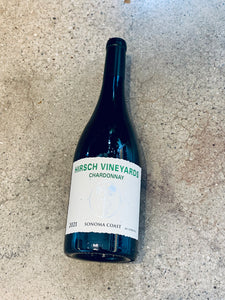 Hirsch - Estate Chardonnay Fort-Ross Seaview Sonoma Coast 2021 750ml (13.3% ABV)
Regular price
Sale price
$90.00
---
from the producer:
"As with all the wines from Hirsch, the purpose of our Chardonnay is to bring you a transparent expression of this unique vineyard site. Through our farming and winemaking, we strive to bring the acidity and minerality of the site forward, with fruit and oak playing a secondary role. With less than 4 acres of Chardonnay vines, production is very limited, and 100% of the fruit is kept for the Estate.
Our first Chardonnay vineyard was planted in 1994. That year, David Hirsch prepared 2.5 acres for planting on a rocky, 40% slope above his house. He was enamored with Barolo and had the crazy idea to put in Nebbiolo. Burt Williams, who had begun buying our Pinot Noir fruit for his winery Williams Selyem, told David he was nuts and should plant Chardonnay instead. Thus the old Chardonnay vineyard was born. The cuttings came from Joe Rochioli. Williams Selyem made the wine from 1997 to 2000; Kistler took the fruit through 2005. In 2002 David planted an additional 1.4 acres of Chardonnay on a sandstone hill in field 12, just over the hill from the old chardonnay vineyard. Together these two tiny plantings comprise our Estate Chardonnay, produced since 2006.
2021 was a cool vintage, resulting in a mineral, fresh and energetic expression of our Chardonnay. On the nose, the wine showcases notes of green apple, Asian pear, stone fruit flowers and lemon curd. The acidity is present but balanced, and the mouthfeel is sappy but energetic. At this young age, the fruit is a bit shy. Drinkable and mouthwatering now, it will gain in weight and complexity with age. This wine is reminiscent of the spectacular 2011 and 2018 vintages."
94 pts Vinous. We only got 4 bottles!
Orange peel, dried herbs (chive), beeswax, baked yellow apples, mineral-driven, crushed seashell, honeysuckle, white peach, medium bodied, distinctive and elegant. Long finish.
region: Fort-Ross Seaview, Sonoma Coast, CA USA
varietal: Chardonnay
style: mineral white
farming/cellar: practicing organic and biodynamic, matured in combo French/Austrian oak (27% new)
pairing: