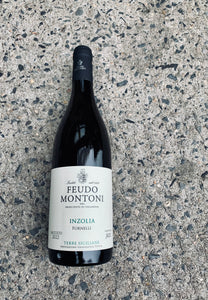 Feudo Montoni - Inzolia Fornelli 2022 Terre Siciliane IGT 750ml (13% ABV)
Regular price
Sale price
$29.00
---
Fornelli is the name of the cru (village/commune) from which the grapes hail. The name has its origins in the ancient ovens, called "fornelli" where clay present in the soil was cooked to create anfore (amphora/qvivri, etc) in which wine was contained, jars where oil was stored, vases, ornamental plates and bricks for construction.

"We keep the vines rustic, so the foliage is free to express itself, The vineyards are not fertilized--we condition the land by sowing broad beans and peas, and we do not use any chemical products."

All operations in the vineyard are undertaken completely by hand, and the results speak for themselves: thanks to the Sireci family's dedication and the vineyards' high altitude, fluctuating temperatures, plentiful rainfall and neighboring olive and wheat plots, Feudo Montoni wines have staked their claim among the finest in the region.
A new fave from Feudo Montoni, one of the oldest estates in Sicily (est. 1469!). 100% Inzolia (yes, yet another rare and obscure Italian varietal - there are apparently around 1,400 identified grape varietals in Italy, yet only about 375 are actually made into premium wines on any scale). Inzolia is also known as Ansonica and is almost always used to make Marsala cooking wines. 
Fornelli is located in Cammarata (Agrigento). 30 years old vines, grafted by hand onto wild plants, soil is sand and clay, 500m elevation, east facing exposure.
90+ points Wine Enthusiast & Wine Advocate 
 Straw yellow color with green reflections, aromas of Spanish broom flowers (beautiful yellow flowered shrub found in eastern Sicily), lychee, honeydew melon, honey, chamomile, just a faint nuttiness, medium plus in body, glossy texture, lingering finish of minerality and zesty acidity
region: Sicily, Italy
varietal: Inzolia
style: aromatic white
farming/cellar: Certified organic farming, 100% in cement containers, in contact with the skins for a quarter of the fermentation process, aged Sur lie with batonnage in cement containers for 6 months, 
pairing: sausage and peppers hero on the beach