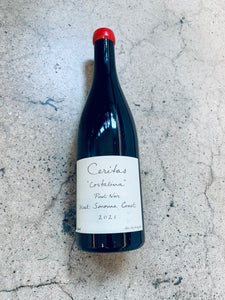 Ceritas - "Costalina" Sonoma Coast Pinot Noir 2021 750ml (13.1% ABV)
Regular price
Sale price
$80.00
---
"The mission at Ceritas is to craft single vineyard expressions of place through Chardonnay and Pinot Noir. The sources for our fruit along the Sonoma Coast and westernmost Russian River Valley — Porter-Bass, Ritchie, Escarpa, Helgren and Deermeadow — were carefully chosen for their winegrowing merits and also for their singularity. Each allows us the opportunity to craft balanced and distinct wines which will stand out on the dinner table. Just as oysters grown in Tomales Bay taste altogether different from those grown in Puget Sound, our wines are reflective of the growing seasons and soils from which they came. 
In the vineyard we allow our sustainable farming practices to be dictated by observation and empiricism rather than by prescriptive farming. All of our vineyard sites are either farmed bio-dynamically or are in the initial stages of being converted to biodynamic farming methods. We believe that biodynamic farming methods, and focused and site-specific attention, give the vines the greatest opportunity to experience each growing season, to respond accordingly, and ultimately to yield grapes with the unmistakable flavors and smells of their time and place.
In the winery, we keep things simple. We look at winemaking from a standpoint that owes more to tradition than it does to cutting-edge innovation — we more often find ourselves trying to understand what not to do rather than what to do. The crafting of each vintage is like a journey, in which nature sets its own course. Our role is to adapt, to proceed with humility, and to learn."
"Costalina" release = Barrel selections from Hellenthal, Elliot, Porter-Bass, and Occidental Road vineyards (Sonoma Coast AVA) Sandstone, shale, and mudstone soils
We could only get 3 bottles! Don't delay. One foot in Burgundy and the other in Sonoma - a perfect meeting of beautiful sunny fruit with understated elegance. Wild raspberry, Bing cherry, touches of baking spice, red florals, medium bodied, excellent spine of acidity and coastal minerality, impressive, seamless.
region: Sonoma Coast, CA, USA
varietal: 100% Pinot Noir
style: red 
farming/cellar:  all sites are both practicing organic & practicing biodynamic, Hand-harvested, Native yeast fermentation, Aged 12 months in 25-30% new French oak, Put back into used barrels for an additional 3-6 months
pairing: Whipped Ricotta -local east end lavender honey, truffle, bee pollen, black lava salt, pink peppercorn, grilled ciabatta. (your version of this crow's nest favorite in Montauk)