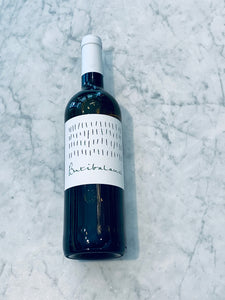 Can Majoral - Butibalausi Blanco Pla i Llevant Mallorca DO 2021 750ml (12.5% ABV)
Regular price
Sale price
$25.00
---
A true family winery, it's difficult to say if it was meant to be an experiment or a hobby or just entertainment, but in any case after the planting started, gradually, this project has been doing great in all aspects without ever losing sight of the main goal: grow, develop and commercialize unique and quality organic wines. 
Can Majoral is in fact the nickname that the locals have historically used to refer to this family.  The bodega's main building features a large open yard, with warehouses, the actual cellar and the garden around it. Both Can Majoral's vineyards and winery are located in the vicinity of Algaida, a village with long viticulture history that is part of the appellation DO Pla i Llevant.
Can Majoral was the second Spanish winery ever certified as organic, first one on the Balearic Islands. 
This bottling comes entirely from the family's Son Reus estate, on the road from Algaida to Pina, near a medieval mansion from which it took its name after the Christian conquest in the 13th century. This territory was called Butibalausí by the previous Moorish inhabitants, vines planted between 2000-2010, soil is clay loam with iron oxide
salty, sea breeze, lime blossom, light to medium bodied, great midpalate texture, we like very very much 
region: Mallorca, Spain
varietal: 70% Premsal, 20% Chardonnay, 10% Parellada
style: salty white 
farming/cellar: certified organic farming , careful hand harvest grape selection in the vineyard and sorting at the winery. ambient yeast, fermented in stainless steel tanks at a controlled temperature. The wine stays six months on fine lees. Gentle clarification and filtration before bottling, minimal so2.
pairing: pica pica , squid stewed in a sauce of tomato, onion, garlic, and spicy paprika.