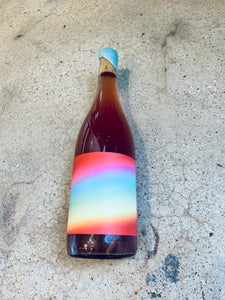 Las Jaras Wines - "Superbloom" Carbonic Pink Cuvee Zero Zero 2022 750ml (11.5% ABV)
Regular price
Sale price
$36.00
---
21% Mourvedre, 19% Marsanne, 15% Roussane, 14% Carignan, 11% Viognier, 3% Picpoul, 7% Grenache Blanc, 10% Grenache Noir
almost entirely sourced from the certified organic Love Ranch vineyard in the Sierra Foothills
Uber complex "rose" of sorts (although using a bit of white wine grapes is pretty common in rose winemaking, has more than just a bit, so we could consider this a vin gris / "grey wine"), this is a fascinating co-fermented kitchen sink blend of Rhone grapes. There is spice and purple/black fruit notes coming from the Mourvedre, Carignan, and Grenache with the lift, minerality, and citrus notes of the white varietals. Plus a bit of that rhubarb/pomegranate from the use of carbonic. This is one you really just have to try, it is not meant to be easily explained!
named after the flowers that erupt in the desert signaling that winter is over
zero/zero - a wine made with nothing added and nothing removed (unoaked, unfined, unfiltered, no added so2) vegan 
info from Jenny and Francois:
Las Jaras is a labor of friendship between a long-time California winemaker Joel Burt and comedian Eric Wareheim (of

 

Master of None,

 

Tim & Eric or

 

Reality

 

fame)

Joel and Eric indeed work on the "cleaner side of natural", as they put it, with a very simple philosophy in the cellar: pick it when it's just right, use different kinds of vessels (there's some concrete oak experiment going on), not much oak, and then "don't fuck with it". Some of the wines (like the new Waves cans) are lightly filtered and received a small dose of sulfur, but that's about it; on the other end, their wildly popular Superbloom cuvée is actually a zero-zero co-ferment of red and white grapes, inspired by Eric's visit to Alice Bouvot's Octavin. An important shift allowing for this kind of work happened in the grape sourcing: with every vintage, Joel and Eric have shifted towards more and more organic grapes, actively incentivizing growers to go fully organic. "All of our fruit sources have been organic since the 2018 vintage except for the Chenin Blanc that messed up with one herbicide spray. The vineyard just changed hands, so we will hopefully get it right with the new grower for the 2022 season," Joel explains.
---