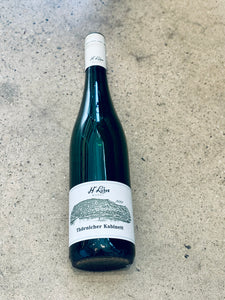 Weingut Hermann Ludes - Riesling Thornicher Kabinett Mosel 2021 750ml (9% ABV)
Regular price
Sale price
$32.00
---
semi sweet Riesling mostly sourced from a Grand Cru site (Ritsch) and the Enggass vineyard, both in the Mosel, crafted by an under-the-radar producer. They hold 4 ha of Ritsch, the largest holdings of any producer.
Ritsch: old vines averaging 75 years in age, ungrafted parcels, very steep slopes, terraced, a prime south, south-west exposure, two side valleys open up on either side of the site, exposing it to the frigid air from the plateau of the Eifel, This cold air rushes into the vineyard at night; it is demonstrable. During harvest here the acid levels simply do not drop in the same way they do in most of the other sites of the Mosel.
Enggass: 
from Vom Boden:
 "...the young grower was Julian Ludes (pronounced "LOOD-es") whose grandfather Hermann Ludes had started the eponymous estate in the 1950s. We had of course heard of the place – an old school, legendary-in-a-quiet-sorta-way estate. Weingut Hermann Ludes has flown under the radar for decades for a number of reasons. First, the village Thörnich is located in an upper-section of the Mosel, far away from the famous "Hollywood Mile" of the Mosel. Further, Thörnich is legendary for shaping wines that are raw and tensile; the wines of Hermann Ludes especially can be brutally structured. In other words these are not easy wines. Second, the founder's son and Julian's uncle, also named Hermann Ludes, speaks no English and has made, over the decades, exactly zero attempts to market himself or to try and placate any whims or fashions, customers, exporters, importers or journalists. He has made his wines his way; he has spent a lifetime in his vineyards...
...These are truly old-school Mosel Rieslings; in my mind these are the rustic, transparent, bracing – even a touch brutal – Mosel wines that were probably common decades ago. Yet this style has been nearly forgotten, pushed aside by the riper, fruitier, easier style of plush-and-giving Mosel wine.
To my mind, Hermann Ludes, Ulli Stein and Erich Weber are the current canonical masters of this style. The best Ludes wines also have something of the sleek tension, the force that is the calling card of Julian Haart's wines. Yet perhaps the closest comparison in our book is with the wines of Weiser-Künstler, with their faceted, crystalline and largely mineral-and-earth driven language..."
35g of RS, 10.7g of TA, fruit picked at 80° Oechsle
can be cellared for 10+ years
region: Mosel, Germany
varietal: Riesling
style: semi sweet white
farming/cellar: hand harvested, ambient yeast, stainless steel vinified, 
pairing: