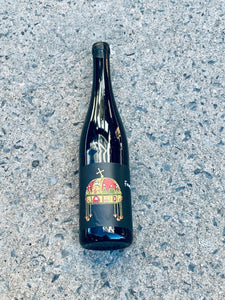 Marvla Tindo - Nitra Frankovka Modra 750ml 2019 (13% ABV)
Regular price
Sale price
$39.00
---
Behind the Marvla TINDO winery are marTIN and vlaDO, two friends who decided not only to debate and taste wine, but also to make their own. They designed and dug a new cellar on the outskirts of the district town of Levice, in the wine-growing part, where Levice vineyards and hajloky have been since time immemorial, at the foot of the Sitno volcano. Each year, they discover new possibilities for vineyards planted on the volcanic bedrock.
Nitra wine region is located in the central southwest of the Slovak Republic. It is often referred to in the adjectival form Nitrianksa.
The most common red grape varieties are Svätovavrinecké ( Sainkt Laurent +  Frankovka modrá) Nitra is one of six main wine producing areas in the country. The history of winemaking here is thought to date back at least to the time of the Moravian Empire (833-907).
"LET NATURE AND TIME SPEAK, BECAUSE WE THINK THAT WITNESSING THE PROCESS IS MORE THAN BEING ITS SUPPOSED DIRECTOR," AGREE MARTIN DANIELIC and 
VLADO KUNY.
deep dark purple ruby red hue, grain box aromatics, juicy ripe sugar plums, tart dry, lean minerality,  blue and black fruits, elegant slate finish.
region: Slovakia
varietal: Blaufrankisch ( Frankovka Modra)
style: volcanic medium+ red 
farming & cellar:
organic, without intervention, aged in slovanian oak barriques, unfiltered unfined 
They watch why vineyards are planted somewhere and somewhere, why our ancestors planted varieties such as planted, which are the original varieties, how to minimize interference in the cellar, but also how wooden barrels work and what effect the vintage has on wine. The wines in the marvla Tindo winery ferment on natural yeasts, allowing the grapes to show their terroir. Subsequently, they lie and mature on fine sludge in Slovak barriques, without filtration and any other interventions from the outside. Thanks to the wine, they suddenly look with new eyes at the landscape below the Sitno volcano. Suddenly, wine is not a goal, but a way to get to know the world around you.
 pairing: Boar's stew or Hungarian Goulash