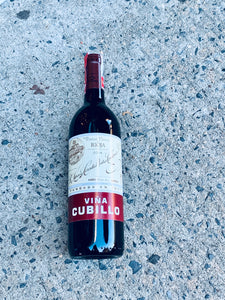 R. Lopez de Heredia - Cubillo Rioja Crianza 2015 750 ML (13.5% ABV)
Regular price
Sale price
$43.00
---
R. Lopez de Heredia is the oldest and one of the classic "Rioja Alta" producers, Haro Espana founded in mid 19th century and still making wine exactly the same. In modern days, we call these guys "natural winemakers". Huge old presses, foot stomping, scarce use of chemicals. This bottling was aged two years in new oak and then moved to big cans where the wine sits until it gets bottled a couple years later. Tempranillo (65%), Garnacho (25%), 5 % Mazuelo and 5% Graciano all together show a bright ruby red color with great depth and nuance. Super fresh, red cherry, and blood orange, nutmeg and other baking spices. Soft and harmonious with great balance.
Viña Cubillo wines come from the vineyard called Viña Cubillas, some 4 km away from the bodega, which as with all of the other vineyards, was bought by our founder. Historically these wines were called "Special Harvest".  Vina Cubillas has an altitude of 410 m, and the vines have an average age of 40 years. The soil is from the terciary age and is a mixture of clay and limestone. Viña Cubillas covers 24 ha, of which 16 ha are under Tempranillo, 4 ha Garnacha, 2 ha Mazuelo and 2 ha Graciano.
With parcels called "La Encina" and "La Monja", Viña Cubillas is a vineyard that produces exceptional wines sold as Crianza. These wines could be easily be marketed as Gran Reservas due to the exceptional combination of soil, aspect and vines.
Definitely a "Thinkers" wine.
History & Philosophy
https://www.lopezdeheredia.com/english/filosofia/filosofia.html
It all started in the middle of the nineteenth century when French negociants visited the Rioja region to find alternative sources of quality grapes to transform into wine, since the phylloxera epidemic had decimated their vineyards.  Our founder, Don Rafael López de Heredia y Landeta, a knowledgeable and enthusiastic student in the art of wine making, followed closely in their footsteps.
Don Rafael fell in love with the region and especially the area around Haro, the mythical capital of the Rioja Alta region. He observed that there was a magical combination of soil and climate that would offer the perfect environment for producing wine that would eventually become world famous. Around 1877 he began the design and construction of the complex that is today known as the López de Heredia bodega (winery), the oldest in Haro and one of the first three bodegas in the Rioja region.
The Romans followed the Ebro River from the Mediterranean to what is now Rioja Alta and planted vines there in Haro, Spain.
The Ebro. Rioja, considered Spain's preeminent wine region, spreads out for 75 miles along the Ebro River in northeastern Spain. The name Rioja, however, is probably derived from Río Oja, one of the seven small tributaries of the Ebro River. The Duero River runs through the Spanish wine region Ribera del Duero. And the Guadalquivir runs just north of Jerez (Sherry).
region: Rioja, Spain
varietal: Tempranillo dominant blend
style: ageworthy red
farming/cellar:
pairing: