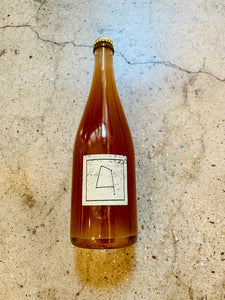 Kabaj - Corvus San Lurinz Pet Nat Rose Slovenia 2021 750ml (11-14% ABV)
Regular price
Sale price
$40.00
---
from superstar winemaker of Slovenia - Kabaj. Bubbly Pinot noir. When asked how he makes it he says " who cares , do you like it ?" 
The Kabaj family has grown grapes in Goriška Brda for generations. Up until the late 80's, like most families in the region, their harvest went to the local State cooperative. Even then they enjoyed working in the vineyards and cared very much for quality. In the late 80's Katja Kabaj married French enologist, Jean Michel Morel who she met while he was working in neighboring Collio, Italy. They decided to settle down in Katja's childhood village of Slovrenc and establish their own winery and family. This was the same moment Slovenia was being established after the breakup of Yugoslavia.

Goriška Brda is Slovenia's best known wine appellation. This is due to the cross border status it shares with the more famous Italian Collio.
They make 60,000 to 100,000 bottles annually. 30% of the production is classical renditions of Bordeaux varieties, 70% is white grapes fermented with the skins.

Depending on the harvest they make 7-10 wines each vintage. Instead of singling out the best lots for the premium wines, all wines are composites of different vineyard locations, each contributing and supporting the ultimate wine in different ways. Millions of years ago the area was a shallow sea shore and delta. The soils are a complex mix of sedimentary flysch and marl interspersed with sandstone and limestone. The flysch and marl soils local known as "Ponka" are most prized. They farm 12 hectares spread across 7 different positions throughout the appellation. Most vineyards are terraced marl planted to mature (older than 25 years), single guyot trained vines.

Farming is low and no till with an emphasis on soil biodiversity. To create an environment for the vine that is in harmony with the natural flora and fauna. Pheasants once common in the vineyard who had all but disappeared have begun returning to their vineyards. Systemic treatments, herbicides and pesticides are not used. What is sprayed is biological. The primary fertilizer is horse manure. Elemental sulfur and copper is sprayed but copper they try to avoid as much as possible.

All wine is fermented with native yeast and moved according to lunar cycles.
region: Goriska Brda, Slovenia
varietal: Pinot noir 
style: pet nat 
farming/cellar: organic, biodynamic, no till farming, ambient yeast, few days maceration, unfined/unfiltered, no added so2
pairing: go eat at their restaurant and ask