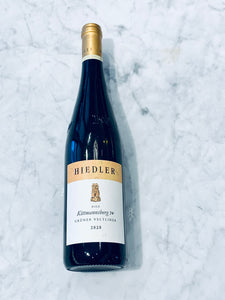 Hiedler - Kittmannsberg Erste Lage Gruner Veltliner 2020 750ml Kamptal DAC (13.5% ABV)
Regular price
Sale price
$52.00
---
Premier Cru (erste lage) single vineyard, terraced, historical site, soil is deep and loamy silt with a high content of clay. The vines dig their roots into loess-loam with a high content of clay (It can also be very chalky in some places).
Kittmannsberg is one of the highest elevated vineyards in Kamptal, located just west of Langenlois. It is shaped like a wide bowl and opens towards the southeast into the Langenlois basin. elevation is 280m-345m. The characteristic basin-shaped topographic depression is responsible for its microclimate and, together with the height enables long ripening periods under cool conditions.
The Hiedler triumvirate, Ludwig Hiedler with sons Ludwig Jr. and Dietmar, is crafting some of the most interesting, texturally compelling wines of the Kamptal. In the last year, Ludwig Sr has taken a step back and his sons are now running the show. The owl is the unmistakable symbol of this traditional estate in Langenlois, family-operated since 1856.
vintage after vintage receives 92+ points from the major critics. Here is what importer Terry Thiese has to say about this wine:
"This is clearly and obviously excellent, as KIttmannsberg usually is. It's GV in the vein of a museum (or "mvsevm") entrance, with neo-classical columns and an aura of High Solemnity. The proper word is impressive and the last word you'd use is "fun." 
 Yet there's a satisfying unity here, a superb-ness you can't deny, regal and resplendent. And yet for all its aura of eternity there's also something tender and silvery about it. It's a thoughtful wine, and it makes you thoughtful in turn. It has volume, but doesn't clamor. It is firm, but not haughty. It's toasty, but not overtly woodsy. It's focused but not pixilated; it leads with a firm warmth.
 It is a beautiful un-seductive wine of the kind that is thoroughly good. If it tried being "great" its reach would exceed its grasp. As it is, I'm completely happy and satisfied."
the top Gruner for us at a recent portfolio tasting (which is saying a lot because all of the iconic German & Austrian producers were pouring at the event). Smoky, salty, spicy, herbaceous, layered & full bodied, full-throttle Gruner. Long, complex, mouthwatering finish. Open an hour before enjoying at cellar temp or stash this beauty away for another few years. 
region: Kamptal, Austria
varietal: Gruner Veltliner
style: powerful ageworthy white
farming/cellar: Certified sustainable, hand picked, aged one year in acacia barrel on lees
pairing: panko breaded pan-fried pork cutlet,