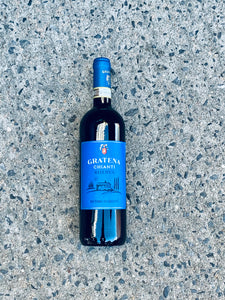 Fattoria di Gratena - Gratena Chianti Riserva DOCG 2017 750ml (13.5% ABV)
Regular price
Sale price
$32.00
---
a chianti classico done right -  you're going to be hooked on this one
"All our products are unfiltered to ensure optimum expression of their characteristics and may, therefore, contain deposit. After a careful study conducted over recent years with the collaboration of our oenologist Fabio Mecca, we have decided to discontinue the use of barriques for aging our wines, preferring 500-liter tonneaux."
certified organic since 1994
"We have been farming organically since 1994, with all our 18 hectares of vineyards and 1,600 olive trees cultivated naturally and respecting climatic cycles. Gratena's microclimate is like a world unto itself, with hundreds of hectares of woods surrounding our crops meaning there is no risk of non-biological contamination. Nature can express itself freely as though we were in a large natural park.
Manure is used to fertilise, copper and sulphur are used for treatments and our crops are harvested by hand. The fermentation process is completely natural using indigenous yeasts in steel tanks that are placed outdoors and benefit from the temperatures through the days and nights. Once the alcoholic fermentation is complete, with no addition of sulphites, the wine is put back into the tanks positioned inside the cellar.
A keyword for us is "Terroir" and we respect ours deeply; it underpins all our work to ensure we maintain the unique characteristics of our wines."
gorgeous clarity, ripe purple fruit, blackberries, cherry pit, silky on the palate, good grip and healthy tannins, chalky minerality, intergrated acidity, aromatic tuscan herbs, sexy matured Sangiovese Reserva.
region: arezzo tuscany, italy
varietal: sangiovese
style: red
farming & cellar: certified organic, hand picked, fermented in stainless steel tanks and aged 9 months in new and old 500L Tonneaux. Gravity filtered.
pairing: fini pepperoni pizza and veal milanese.