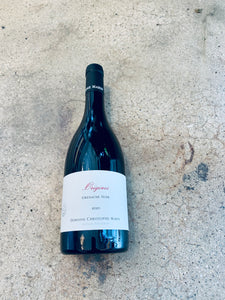 Domaine Christophe Marin - Côtes Catalanes IGP Rouge "Origines" 2020 750ml (14.5% ABV)
Regular price
Sale price
$40.00
---
A selection from several plots around Maury that is meant to represent the appellation as a whole in any given vintage. Soil includes black schist and clay limestone. WInemaker based in Maury and is inspired by Burgudy after working there (most notably as the cellar master at Domaine Vincent Girardin).  His estate specializes in single-site/single-varietal expressions, showing the varied terroir of the Valley de L'Agly. All vines are at least 70 years old!
In the vineyard, Christophe uses natural grassing and the development of plant cover. This technique helps protect soils from UV radiation and limit evaporation. Maury has fragile soils that heavy rains can damage, so this plant cover limits erosion. He also maintains hedges and even plants trees in the vineyard to protect the vines from high temperatures, since in the shade, there may be a difference of 2 to 3 ° C. Co-plantation plays an important natural role, allowing the creation of a natural biodiversity that is essential to the vineyard.
Wine Club Selection: "Organic & Biodynamic winemaker, favorably aspected plots of old vines, mistral winds, schist and clay limestone soils all make for the perfect combining of forces - power and grace are my go-to descriptors for this 100% Grenache that will hold up to a grilled steak-frites and bbq burgers ... Download the free app "when wine" to track the biodynamic calendar days. "Fruit" and "flower" days are the favorable days to drink wine!"
decant for 30 mins and serve at cellar temp
perfect example of why we love Grenache - elegant yet bold with tons of complexity: anise, black cherry, rose petals, garrigue spice, cassis, figs, strawberry jam, medium-high acid & tannin, for fans of Chateauneuf du Pape & Montsant/Priorat. More fruit on day 2, can be aged for 5-10 years. 
region: Catalanes, Languedoc-Roussillon, France
varietal: Grenache
style: medium bodied red
farming/cellar: organic & biodynamic, Aged in 228 L barrels and 500 L oak demi-muids for eight months. One month before bottling, the wine is racked on a fruit day, rising moon to promote the fruity expression of the wine, then blended.
pairing: steak frites, bbq burgers, chicken quesadilla