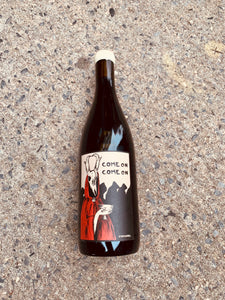 Cutter Cascadia - "Come On Come On" Zinfandel 2021 Columbia Valley AVA (12.5% ABV) 750ml
Regular price
Sale price
$40.00
---
Cutter Cascadia are the super cool / small production releases of Michael Garofola.
"Whether or not you derive the sense of place and time from a glass I can't control that nor does that really matter, but all I can do is make the wine through this lens . . . of one who values the simplicity of nature and yet the often confounding and beautiful way that that happens. There will be some experiments along the way. It could be an epic failure but it will be true and if it all lines up ok, it might make you feel something." - MG
'21 Come On is a blend of two sites:
Surrounded by the cherry orchards and wheat fields central to Wasco County agriculture, Hillside Vineyard is an arid, warm and windy locale. Planted in 1983-5 by Harold Haake and Lonnie Wright, Hillside is 80 miles east of Portland along the Columbia River in the loamy, sandstone foothills south of The Dalles. Approaching the high desert of central Oregon and the Columbia Basin, there is a rugged beauty here that few connect with the image of Oregon, or at the very least, Oregon viticulture. The yields were particularly low in the Zinfandel in 2021 due to first early season frost as well as the intense heat in June once bloom was commencing. Soil at Hillside : Chenoweth series coarse loam soils derived from volcanic mudflows and debris from ancestor volcanoes to Mount Hood about 6 million years old.
The resulting yield was down about 50% from the 2020, so I was able to pick up some extra fruit from Lonnie Wright at the Pines (same genetic material and similar age) to balance things out. The Hillside pick occurred on 9/6 and The Pines pick came a few days later on 9/13. The raw material couldn't be more different and were treated very differently coincidentally. 145 cases produced.
Come On Come On promises to be a unique Zinfandel experience, with high toned red fruit, woodsy spice notes from the whole cluster and chiseled texture with fine tannins reminiscent less of traditional west coast Zin than of Alpine Nebbiolo or Jura.
region: Columbia Valley, Oregon, USA
varietal: Zinfandel
style:
farming/cellar: No synthetic herbicides or fungicides are used at any time. Mildew sprays are conducted with OMRI certified products and compost and cover crops are also employed to aid in soil health and water retention. The earlier Hillside side pick, which equated to about 80% of the wine, was fermented 40% whole cluster semi-carbonic while The Pines fruit was allowed to ferment 100% whole cluster briefly before both were pressed together at 20 and 10 days respectively. The wine was allowed to settle briefly before being racked to barrel where the wine remained for 13 months. The wine was then racked into tank and settled for 2 ½ months prior to bottling on 1/16/23. Bottled unfiltered, unfined with 23 ppm sulfur added at racking prior to bottling. 
pairing: lacquered lamb ribs with Chinese black vinegar