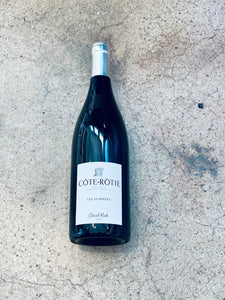 Maison Clusel-Roch - "Les Schistes" Côte Rôtie 2019 750ml (14% abv)
Regular price
Sale price
$98.00
---
Côte Rôtie the roasted slope, Roman vines. My favorite wine, desert Island disc.
From the 1950s to the 1980s, René and Joséphine Clusel , like many Ampuis farmers, cultivated vegetables, fruit trees and Côte-Rôtie vines, from which they marketed the wine in bottles. At that time, Côte-Rôtie wines did not enjoy their current reputation, but René Clusel's Côte-Rôtie was appreciated by connoisseurs.
As the years passed, a new generation joined the estate: Guillaume Clusel, the son of Gilbert and Brigitte Clusel has been working the family vines since 2009. He now assumes all responsibility for the estate, supported by a passionate team. 
The 2019 Cote Rotie "Les Schistes" is the blended cuveè formerly known as "Classique" formed from the terroir of four vineyard sites on the northern end of Cote Rotie: "Viallière", "Champon", "le Plomb", "Montmain", which share mica schist soil and south-east exposure. Vines are 10-60 years old.
It's medium to full-bodied taut and dry with a distinct tension between acidity and ripeness and a long cinnamon and pepper-inflected finish. Marked by striking aromas of licorice, tart pomegranate and violets set against a backdrop of black cherries with an energetic drive thanks to a spine of smoky minerality - Brambly barn yard nose. Finishes very long with persistent blue fruit and floral tones, subtle tannins and lingering spiciness. It should age well for a decade or more.
WA 91 pts.
region: Northern Rhone, Côte-Rôtie, France
varietal: 95 % Syrah 5% Viognier 
Style: distinctive brambly red 
farming + cellar: certified organic (ECOCERT), hand harvested, gravity fed winery, partially destemmed, ambient yeast, gentle extraction, matured 2 years in 228L fine grained French oak barrels (15% new) which have been dried for 4 years
Pairing: Roasted Game and squash creme bruleè