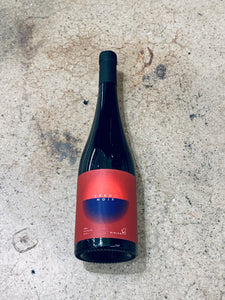 Bikicki - Sfera Noir 2021 750ml (14.5% ABV)
Regular price
Sale price
$29.00
---
 Djordje Bikicki (pronounced: Bee-keetz-kee) is anything but a traditional winery owner, but is no stranger to hard work and dedication. Now a passionate winemaker and businessman, Djordje in his past life was a longtime drum'n' bass DJ in the vibrant nightlife of Belgrade, as well as an avid basketball player and waterpoloist. The wine portion of the Bikicki family started with his father and uncle, whom initially acquired
vineyards and helped run their family-owned vineyard and wine business. But when Djordje entered the equation for the winery, he took on a low-intervention approach, and injects his passion, creativity and dedication into the wines, which is apparent in their elegant yet youthfully fun styles.
***note: this wine has a number of different color variations for the label, so actual label design will vary! Also, don't pay too much attention to the ABV, this definitely does not drink like its 14.5 - we would guess more like the typical 13% for a Pinot.
Packed with red and black fruit:
crushed black sour cherries, dark raspberry and Serbian spice, cloves, cranberry compote, cherry jam, rose petals, cran apple, mint, forest floor, hint of black olive. Lighter end of medium bodied, aged modena, nice acidity, versatile and fresh, but juicy and meaty with fine tannins.
region: Fruška Gora, Sremski, Serbia
varietal: 80% Pinot Noir 20% Crna Tamjanika (Black Muscat)
style: light-medi red
farming/cellar: Organically farmed, certified organic starting in 2020.
Vinification: Hand harvested in late August, the grapes see 5 days of skin maceration directly undergoes spontaneous
fermentation on wild yeasts in concrete spherical tank; aged for 1 year in old French barrique. Bottled with no fining or filtration, and minimal sulfur addition used at bottling.
Notes: Sfera (aka Sphere) is named after the aerobic concrete vessel that is used to make this wine and deliver its lively and elegant character.
pairing: Bouillabaisse, candied salmon with farro wheat berries, dried cherries and pistachios, black trumpet mushroom pappardelle, pecorino, parmesan, EVO and fresh sage