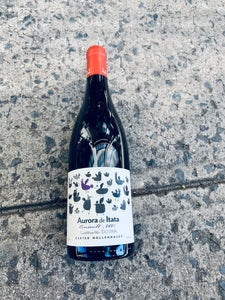 Aurora de Itata - Cinsault 2021 Guarilihue Alto Itata D.O. 750ML (13% ABV)
Regular price
Sale price
$25.00
---
Carter Maulenhauer is a boutique winery owned by Karine and her husband, Edgar Mollenhauer. They are known for their commitment to producing high-quality wines that reflect the unique terroir of the Itata region and they are particularly focused on working with traditional Chilean grape varieties such as Pais and Cinsault:
"Wine is made by and for the people. We are the fourth element of terroir next to the vines, the soil, and the climate. The permanent aspect of our work is the quality of the wine, the consequent reputation of a place and the benefit to its people. Without the human aspect, there is no terroir, and if Chile wants to make the world fall in love with its wines, we must go beyond just making good and correct wines. We must worry about transferring the character of the place and the people to the bottle, the interpretation of the territories must focus on that from my point of view. Only in this way will we make unique and unrepeatable wines that capture the attention of connoisseurs"
This is a "vino de lugar" or "wine of a place". A version of Cinsault from the sector of Guarilihue Alto which aims, more than showing the typicity of the variety, to express the mineral side of the granite soils.
The palate bursts with flavors of ripe red berries, including cherries, cranberries, and plums. Juicy and mouthwatering quality to the fruit flavors, accompanied by a flinty character and a captivating minerality.
vines planted in 1950 & 1955, soil is quartzic granite
region: Itata, Chile
varietal: Cinsault
style: red
farming/cellar: organic, hand picked, The wine fermented spontaneously with trodden whole clusters. Winemaking is very smooth, like an infusion, in concrete vats. Aged for 8 months in 5 & 6 year old French oak barrels, bottled unfined and unfiltered. Small addition of sulphites before bottling.
pairing: