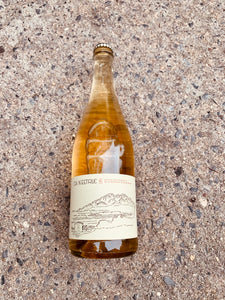 Ca N'estruc - Catalunya Sparkling Xarel-Lo "Bi Ancestral" 2021 750ml (12% ABV)
Regular price
Sale price
$24.00
---
Anna Martí Pitart has grown up immersed in wine and viticulture. Her father Francisco has been making wine at their family home since before she was born; his grandfather, Francisco Martí Estruch, was the last to bear the name that graces their ancient estate that was established in 1574: Ca N'Estruc. In collaboration with her father and in the tradition of their forebearers, Anna farms local varieties at Ca N'Estruc, blessed by Mediterranean breezes and sheltered from northern winds by the iconic Montserrat mountain range.
 
If this sounds idyllic, there is good reason! Their vineyards are healthy and vibrantly green, as the estate has embraced high quality, environmentally conscious agriculture. Under Anna's father Francisco, the estate moved away from selling their wines in bulk in the 1980s and 1990s, replanted the estate to indigenous Mediterranean varieties and began vinifying their own wines in a newly built cellar. Their contiguous 22 hectares of vines are now biodynamically farmed, have been certified organic since 2012, and Anna has been working with local experts to pursue Biodynamic certification from Demeter since 2019. 
 
Since 2013, Anna has been making her own wines under the Ca N'Estruc label working with grapes from selected plots on the family estate. Her goals with Ca N'Estruc BI ('ALIVE') are not to break with family tradition, but rather to focus on ancient, low intervention methods and smaller production quantities. The wines are made in a corner of the Ca N'Estruc cellar, where Anna works without additives, never filters or clarifies, and bottles only by gravity. 


gentle bubbles , toasted hazelnut, citrus 
region: catalonia, spain
varietal: xarel-lo
style: sparkling 
farming & cellar: 
organic and biodynamically farmed vines planted in 1957 on red clay and gravel soils. The vines are 270 meters above sea level. The grapes were harvested by hand, then 80% were pressed directly while the remaining 20% were destemmed. Fermentation started with native yeasts in 1,000L stainless steel tanks and finished in bottle in the ancestral method. The wine rested in bottle for 6 months on the lees without fining, filtering, or sulfur addition.
pairing: duryea's lobster salad 
---