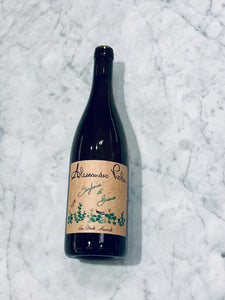 Alessandro Viola - "Sinfonia di Bianco" 2020 750ml (13.5% abv)
Regular price
Sale price
$50.00
---
Since the 1st time I tried the wines of Allessandro Viola at Joe Campaneli's Anfora several years ago, I was enamored with his wines of Sicily.
Alessandro Viola is a small producer in the northwest corner of Sicily, south of Palermo. His father was a vine grower although other than a few bottles of homemade wine he never saw the fruit of his hard work in the vineyard into the bottle. Alessandro was fascinated in grape growing from an early age and after a few vintages of self-teaching he decided to get a formal education and study oenology. During his university studies he steered away from the mechanical side of winemaking he was being taught and decided to study the science. The idea that nothing needed to be added or taken away from the wine if the grapes, soil and winemaking were all working together became his mantra. Today, he cultivates just over 17 acres of organically farmed wines. He is committed to the local varieties: Catarratto, Grillo, Nero d'Avola and Nerello Mascalese. His style is unique and his commitment to organic and biodynamic practices with no additions is central to his winemaking philosophy.
FKA Sinfonia di Bianco comes from Alessandro's top sites (Santa Ninfa/Pietrarenosa) in the Alcamese hinterland above the idyllic Gulf of Castellammare
Intense, textural and aromatic it displays refreshing and food-friendly tannins (a perfect match with couscous alla Trapanese) and showcases how versatile Grillo can be. Savory and structured with great body, apricot, orange zest, stony minerality.
varietal: 100% grillo
region: western sicily's northern coast, italy
style: skin contact white ( orange wine)
farming & cellar: the grapes are harvested from the vineyards around Santa Ninfa and Pietrarenosa, slightly over-ripe and see a 5 day maceration, fermented in steel prior to pressing and aged in old chestnut botti. Unfined, unfiltered, minimal SO2 at bottling. 13.5% ABV
pairing: well with caprese salad, Frutti di maré marinara, grilled Polpo sicilian olives and roasted garlic, misto fritto
---