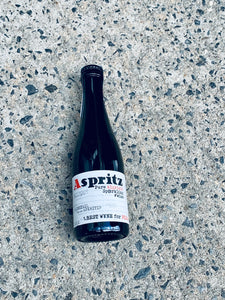 Fabulae - Campania Asprinio "Aspritz" 375ML 2021 (10.5% ABV)
Regular price
Sale price
$15.00
---
Asprinio Spumante 'Aspritz" 1/2 bottle VSQ made from 100% Asprinio. The grapes are destemmed and a soft pressing takes place. Fermentation is for one month in stainless steel tanks to prepare for the traditional (champagne) method which takes place in the bottle. The wine is then manually capped and rests for 9 months before release. This spumante is straw yellow in color because the juice was left on the lees and is full bodied. It has hints of citrus fruit, a touch of lemon, good minerality, bright acidity and a note of brioche. 
Crafted as the perfect pizza wine! But you can enjoy this delightful half bottle on its own or with whatever you're cooking tonight. Organically grown.
More info from MCF Rare Wine:
"Back in 2017, I was tipped by a restaurant friend of mine about a great little Solopaca from Campania that was being imported by a guy who worked at Kesté, the famous Neopolitan pizza joint on Bleeker Street.

That guy was Stefano Cominale, and he came and showed me this fantastic Solopaca (a 90/10 blend of Aglianico and Sangiovese from one of the more obscure appellations in Campania) and I was instantly hooked - here we had a wine that demonstrated as much classic, honest Aglianico character for the money as anything else I've encountered.

I also loved the story behind it - a native of Campania comes to NY, works in a famous Neopolitan pizza joint, but can't find the cherished wines of his homeland at a price/style that he loved.

So he started importing his own under the 'Fabulae' name, all of which are organic, fiercely traditional, fairly priced and absolutely delicious.  

So we started with the Solopaca, and soon after he had a Sannio Aglianico at a slightly higher price point that was also fantastic, showing a bit more complexity and depth.

They instantly garnered their own dedicated following here, which we ran with.

All the while, though, he kept telling me about two whites that were on the way, one of which was the Pallagrello (Bianco), and the other was an Aspirinio, easily of of Italy's most obscure varietals.

When the Pallagrello landed, we (and many of you) were smitten with its lively, peppery, slightly cheese-y and firmly mineral character.  A fresh, super classic Campanian white that will cover anything from fresh, simple seafood, to pasta and pizza with ease...and will actually age really nicely for a few years too.

Then we have the Aspirinio, which is totally unique, though not in an upfront kind of way.  I supposed I should make mention of the fact that Aspirinio vines are trellised 20 or 30 feet in the air, traditionally on trees, most of which require long ladders to harvest.  You can just image-search 'Aspirinio Vines', and you'll see what I mean...."
---