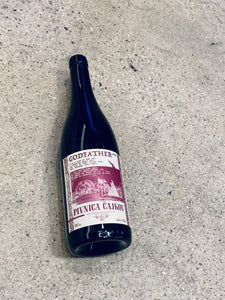 Pivnica Cajkov - "Godfather" Pinot Gris 2020 750ml (11-14% ABV)
Regular price
Sale price
$43.00
---
The wines of Pivnica Cajkov are a synthesis of their wildly creative maker, Marek Uhnák, and the history of his family in the region of Cajkov. They are as inventive as they are classical. The production is based around the old Carpathian variety Pesecká Leánka. While studying wine at Oenology Secondary School in Modra & Mendel University in Brno he realized the mistake made in his region where historical grape varieties were replaced with popular international grape sorts. When he returned home to make wine in his familial vineyards his aim became to reverse this trend, not as a matter of taste but because of the unique suitability these localized vines have to their region.

the fundamental factor is the coexistence with the tuff soil in Čajkov. Pesecka is luxuriant, easily reaches the deeper parts of the underlying rock, draws on its distinctive minerals and blends them into wine. It is able to make use of the ability of tuffa to accumulate heat and use it to ripen."
The minerality imparted by the volcanic soils is prominent in all of the wines. It is not a static flavor; it presents itself differently in each wine depending on what the grape variety brings in terms of texture and flavor, and is key to the nuance of all of the wines.

"Marek's quality parallels "Jean-Michel vintner from Slovania winery, Kabaj. He is on the same level as a vintner crafting stellar wines from Mt. Sitno Volcanic bedrock terroir"
pretty pink rust hue, wildflower honey, river rock, funky, aromatic minerals good acidity lingering stone fruit.
region: Cajkov, Slovakia
varietal: Pinot Gris
style: skin contact (Amber wine)
farming & cellar:
The soils are the source of the dynamic, mineral aspect all of the wines share. The multitude of volcanic soil types is the result of a large eruption that millions of years ago, reduced a 4,000 meter high mountain to just 400 meters, in an instance, spreading its interior material across kilometers of land. One of the largest known volcanic eruptions ever, it was so large it influenced climate globally. For millennia the region has been famous for mining of gold and other precious minerals.
In the cellar he is avante garde. Looking into the past and into himself to create modern low intervention wines. Each is made in its own way, sometimes in stainless steel, an assortment of barrels different in  size, wood type and age, varying degrees of skin contact, aging under flor. This is not chaos; the wines are vividly individual, faceted, polished and fascinating.
pairs well with intricate dishes. The sophisticated cooking Marek does for his family and friends informs the wines he makes.

---